Getting into the world of donut franchising is an exciting venture, but without continued operational support from your franchisor, you are unlikely to reach your full potential.
Shipley Do-Nuts, a beloved name in the world of delicious, freshly made donuts and other delectable treats, offers not only a fantastic product but also an array of support services to help franchisees thrive.
In this comprehensive guide, we will explore the various facets of operational support that Shipley Do-Nuts provides our franchisees, making us, well, the best donut franchise out there.
Donut Franchising and Operational Support from Shipley
Field Support
At Shipley Do-Nuts, we understand that our franchisees' success is our success. That's why we've assembled a team of experienced franchise business consultants to offer unwavering support to all our franchise owners.
Our Team of Franchise Business Consultants
When you join the Shipley Do-Nuts family, you gain access to a dedicated team of franchise business consultants who are experts in the Shipley system. Our consultants bring a wealth of knowledge and experience to the table, and their primary focus is to help you achieve your goals.
How You Can Benefit from Field Support
Our franchise business consultants go above and beyond, working closely with each of our franchisees to understand their unique needs and challenges. Whether you're new to franchising or an experienced business owner, our guidance is tailored to your specific situation.
Personalized Assistance and Guidance
What sets our field support apart is the personalized touch. We know that one-size-fits-all solutions don't work in the world of franchising. Our consultants collaborate with you on an individual basis to address your concerns and help you overcome any obstacles in your path.
When you open your Shipley Do-Nuts franchise, you won't be alone in the process. A seasoned Shipley team member, someone who has an extensive understanding of our system and operations, will be there to guide you. This experienced individual is your go-to resource during the initial phase, ensuring you get off to a strong start.
Operations
Our commitment to your prosperity goes beyond the initial setup – it extends to the day-to-day operations of your business.
Periodic Information and Resources
The Shipley Do-Nuts franchise system is built on a foundation of constant improvement. We provide our franchisees with periodic information and resources to help you stay up-to-date with the latest industry trends, operational best practices, and technological advancements.
Ongoing Support
We understand that the early days of running a franchise can be demanding, which is why we continue to provide ongoing support. We're here to help you fine-tune your operations, address issues as they arise, and keep your business on the path to success.
Marketing and Advertising
When you join the Shipley Do-Nuts family as a franchisee, you gain access to expert strategic marketing and advertising support. Our marketing strategies are designed to help you build brand awareness, attract customers, and keep them coming back.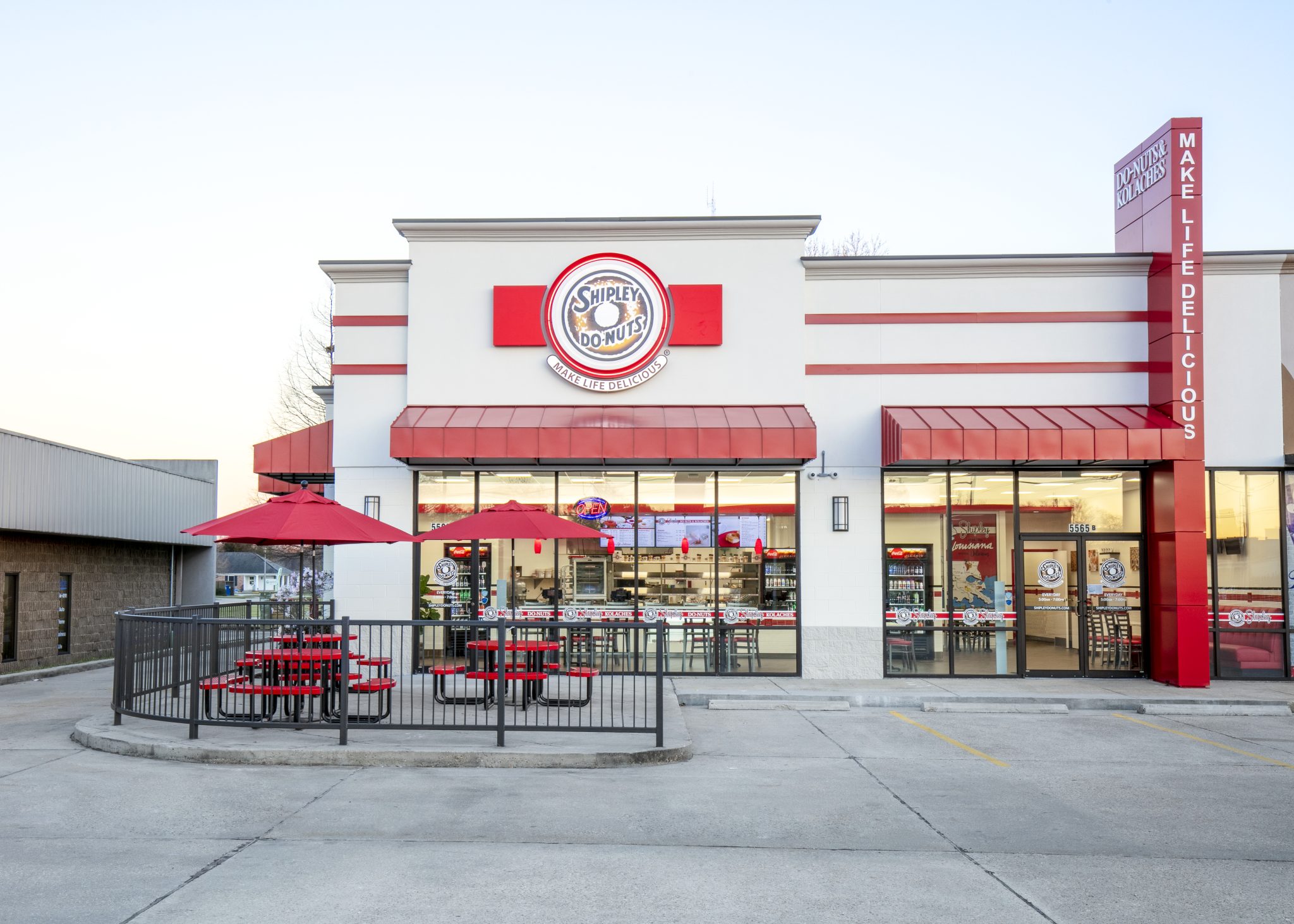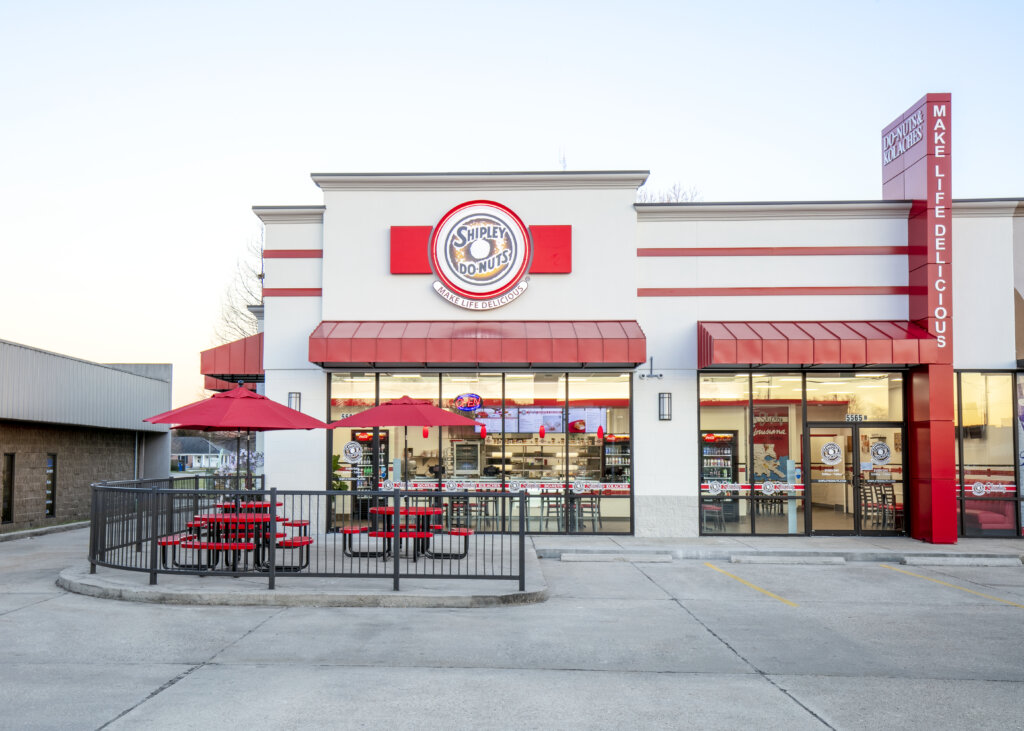 Expert Strategic Advertising
Shipley Do-Nuts has a rich history and a strong brand presence, and we're dedicated to helping you leverage that reputation. Our team of marketing experts works diligently to craft advertising strategies that are effective and tailored to your specific market.
Local Store Marketing Tactics
While we're a well-known brand, we understand the importance of connecting with your local community. Shipley Do-Nuts provides franchisees with local store marketing tactics designed to increase foot traffic and customer loyalty.
Culinary Excellence
Culinary excellence begins with the quality of our products, and we continuously innovate to ensure that you're serving your customers the best donuts and treats. Shipley Do-Nuts invests in research and development, working on new product offerings and improvements to existing ones. We stay up-to-date with industry trends and customer preferences, allowing you to keep your menu fresh and appealing.
Equipment and Procedure Innovation
Our dedication to excellence extends to the equipment you use in your store. We provide guidance on the latest and most efficient equipment, helping you streamline your operations and enhance the quality of your offerings.
Ongoing Optimization
Once you're up and running, we don't stop there. Shipley Do-Nuts provides ongoing support to help you optimize your procedures. We're dedicated to maintaining the highest culinary standards, so we assist in fine-tuning your cooking and preparation processes. This not only ensures consistency in product quality but also boosts your operational efficiency.
Join the Best Donut Franchise
Are you ready to embark on a delicious and rewarding journey into the world of franchising? Shipley Do-Nuts invites you to take the next step towards becoming a part of our family and experiencing the unparalleled support we offer to our franchisees.
If you're excited about the prospect of owning your own Shipley Do-Nuts franchise and benefiting from our comprehensive operational support, don't wait.
Contact Shipley today to learn more about the exciting opportunities that await you.